Boundary Waters Canoe Trip 2002
TRIP LOG: Submitted by Tony February 2016
Route
Lake One Thru lakes 2,3,4, Insula, Kiana, Thomas, Fraser, Gerund, Ahmakose, Wisini, Strup, Kekekabic, Eddy, South Arm of Knife, Seed, Carp, Birch.
Profiles
Hailee 12 year old daughter. First trip up north. Using a Coleman backpack w/ plastic frame which doubles as her seat in the center of an 18′ Wenonah Sundowner Kelver canoe. She carries her personal items and a Coleman 7×7 dome tent.
Aaron 26 year old son. Second trip to BWCA. First trip was 14 years ago. Using a Camptrails trip pack. Loaded. Commonly referred to as THE PACK FROM HELL. He carries personal items and all food. He is commonly referred to as THE PACK MULE. He loves to fish.
Tony 43 year old father of above. 3rd trip to BWCA. Using a Northface internal frame pack for personal items, rain tarp and other misc. items. Also carries the canoe. We are also using a Serra daypack for lunch and other easy to access items.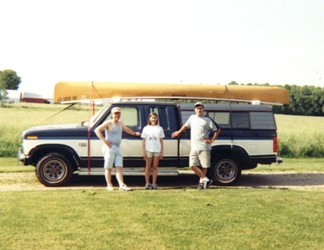 Road Trip
We left home around 8:30am 6-2-2002 for a 17 hour drive to Ely. After driving in rain thru most of southern WI. we decided to stop in Rice Lake Wi. and get a hotel. From Rice Lake to Ely is only a 4 hour drive. Up early and on the road. Arrived in Ely 11:15 am. (all times are e.s.t. I couldn't see any sense in changing time zones) We were using Latourells bunk house, tow service and a shuttle to Lake One, so went straight there to check in. On the way, a weasel crossed the road in front of us. Is that a good sign for the rest of the trip?? I've been checking the Forest Service website about fire bans and everything was ok for fires from 7:00pm to midnight. However that all changed by the time we got to MN. No fires at all north of Insula Lake. Went back to town to shop and eat supper. On the way back out to Moose Lake from town the odometer in the truck turned over to 100,000 miles. Had to get the camera out and make a big deal out of it. Oh life is good. After phone calls to home we hit the sack as I wanted to start as early as possible in the morning.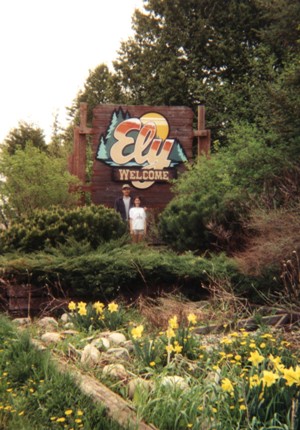 DAY 1
6-04-2002
Up at the crack of dawn. Can't believe how early daylight comes this far north. We arrived at Lake One at 7:00am. Got everything unloaded and parked the truck, with a Canoe Country sticker taped to the back window (Anyone see it??). Got on the water and man did it feel good. Nice calm, quite morning. Not another soul in sight. Started for the narrows to get to the main part of Lake one and missed it. Twice. But seeing our first bald eagle of the trip made my mistake worth it. Finally found the right way and off we went. My goal for the first day was any open campsite on Hudson as I didn't want to push the kids too far this early in the trip. All the portages were easy with the 2, 25 rods and a 10 rod accomplished in a single portage. However I had too much weight and if I wanted to enjoy this trip I figured we should double portage and see the woods also, not just the lakes. We stopped for a lunch of beef jerky and gorp (or trail mix depending on what the kids were calling it at this time.) We also opened a package of Tyson dehydrated chicken chunks, that we found at Sams Club. After eating 2 pieces I reached for a 3rd and saw mold. The whole package was moldy. (we had a 2nd package that was used later in the trip that was OK.) We made great paddling time. We were on Hudson by 1:00pm so everyone agreed to go ahead and do the 105 rod portage into Insula Lake. After looking on the maps for campsites and checking the water depth, we decided to stay on an island up the first arm on the left. As we rounded the last point of land before the island, standing at the waters edge was a cow moose with a calf. The calf looked just like a brown fuzzy oversized beenie baby. Also saw beaver and lots of loons. After camp was set up, Aaron went fishing, catching a couple pike and a small walleye. Had the traditional first night supper of fresh steaks and baked potatoes over an open fire. Decided to name the camp IDLE MIND ISLAND. Went to sleep with a chrous from the loons.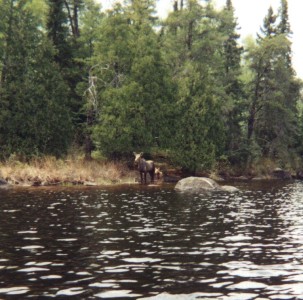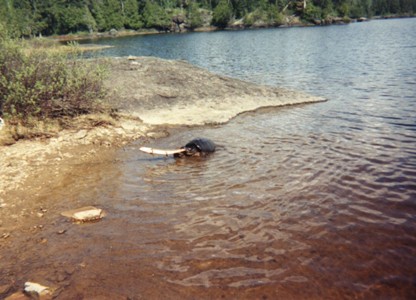 DAY 2
6-05-2002
Beautiful clear, sunny, warm morning. Because of the fire ban we decided to stay a 2nd night on Idle Mind Island and enjoy the only other campfire of the trip. As Aaron fished around the shore of the island, Hailee and I went to the small, unnamed lake at the end of the arm. It looks more like a swamp, with old tree stumps sticking out and lots of moss on the water. Saw moose tracks like crazy. Aaron caught a small pike that he wanted to eat with supper, so we put it on a stringer with a long rope and left it in the water until supper time. About an hour later, I couldn't believe how active that pike was. Upon checking, I saw a 18-20″ snapping turtle with the tail of the fish in its mouth. We pulled the pike up on shore and that turtle came right out with it. It wasn't about to let go. Only after putting a paddle on its nose did it let go and leave. We saw 7 snappers around that island, the biggest about the size of a semi-truck rim. Before supper Hailee wanted a snack. So I served chicken noodle soup with a side of Little Debbie nutty bars. I was a beautiful waiter, with my black nylon water shoes, oversized shorts, camouflaged duffus hat, lilly white legs and arms. As she snacked I sat and enjoyed happy hour. Supper was taco hamburger helper w/dehy. burger and a side of pike, which Hailee had promised to the poor pike that she would not eat any of. (more for Aaron and I.)
DAY 3
6-06-2002
Up at 5:30am. Beautiful quarter moon setting in the west. I cooked a hardy breakfast of hashbrowns, gravy and doughball biscuits. I need to stop using bisquick. It never turns out right. Got packed and on the water by 9:00am. While going north to Kiana, we saw an Eagle perched on a dead tree. He looked so proud just sitting there watching us glide pass him. The 180 rod portage into Kiana wasn't bad at all. Not much up and down to it. The Chota Quetico trekker water boots I bought, really grip well. I am happier than I thought I would be with them. We got to Thomas Lake and the wind was starting to pick up drastically. We took a lunch break at a camp on the east shore not too really worried about the wind at this time. It was to our backs and made for easy paddling. The narrows between Thomas and Fraser are hypnotizing. The map is deceiving about the width of the channel. I was waiting for a portage, but the wind just blow us right on thru. We decided to camp on Fraser, at the site closest to Trinity Lake on the arm to the left, as you enter the lake. We could see tents on the far shore, and we felt too tired to paddle across the lake if there was a chance that all the sites might be full on that end of the lake. We are now in the blowdown area and Hailee saw a downed tree where she could stand up in the root cavity for a picture. Not much holds those trees to the earth. We thought we had a nice grassy campsite until the ticks started roaming. They were bad from here throughout the rest of the trip. Although we couldn't have a fire here, we still kept finding ourselves standing around the fire grate. Then Hailee and I noticed, when Aaron went to the latrine, that you could see everything when someone sat down. Hence the name Hailee gave to this site. CAMP ICUP. While Aaron and I washed clothes and ourselves, Hailee, who had brought her gameboy along with her, finally defeated level 8-3 in Super Mario deluxe. It was a life saver to have that game along. And it doesn't weigh much. Had mac and cheese with summer sausage and jalapeno peppers for supper. Without a fire, the mosquitos got bad right around 8:00. They would chase us into the tent where multiple games of rummy would take place, until 2 of the 3 of us would quit for sleep.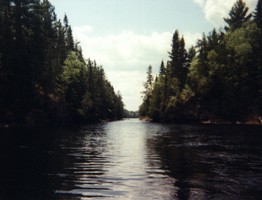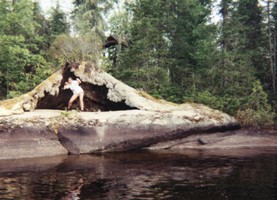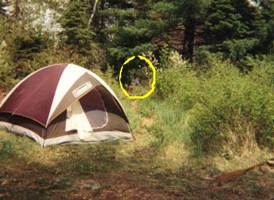 DAY 4
6-07-2002
Today started windy and it looked like rain. We were packed and on the water at 10:00am. Had a 15 rodder to Gerund, 30 into Ahmakose, then a 90 rod portage into Wisini. And another small 10 rodder into Strup. Wisini and Strup Lakes are both small beautiful lakes. Even with the effects of the blowdown. Saw a group of boy scouts camped on Wisini. We passed 4 members of their troop on the 90 rod portage and a couple guys coming from Kekekabic on the same portage. The only people we saw all day. I am really surprised by the lack of canoeists on this section of the trip. The 85 rod portage from Strup to Kekekabic was a pain. It was down hill for us, but muddy in spots and lots of ankle breaking rocks on the trail. I had to walk just a bit on the Kekekabic trail just to say I was on it. The blow down results really blew my mind on this stretch of land. Looking at it 3 years after, I just can't imagine how it looked 3 days after the storm. We wanted to find a good campsite on Kekekabic to do some fishing for lake trout. After launching from the portage, we had a very strong wind beating on our left side. The width and depth of this lake and the cold water temps made me nervous, so instead of staying on the northwest end of the lake, we canoed down to a great campsite where the lake narrows. That way we had the west wind to our backs. We had some blockage from the wind at this site and with the threatening clouds looming over us, we hurriedly set up the tent and rain fly. But luck was with us. No rain ever fell. The campsite was about 15 feet above the water on these massive rocks, and there was 3 islands out in front of us. 2 seagulls were nesting on one island and 2 male loons kept guard between us and the other 2 islands. Hailee was excited about finding the latrine and in the process she twisted her ankle. While her shoe was off, she stubbed her toe. Later a fish hook found its way into her finger. (not bad). Aaron and I just laughed at her and enjoyed happy hour. As the day wore on the wind died down. After a supper of beef stew, the mosquitoes again got heavy and chased us into the tent for more rummy. Hailee has a system for shuffling the cards. Separate cards into 4 piles of 13. Shuffle each pile. Then combine the cards into 2 piles of 26. Shuffle each pile. Then combine the cards into 1 pile. And shuffle. Then deal. Oh what a wonderful time!!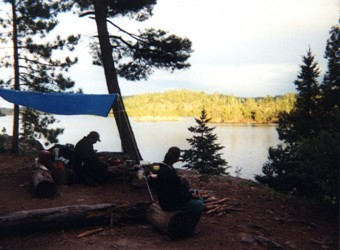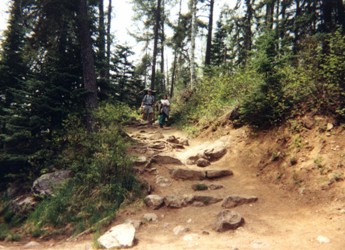 DAY 5
6-08-2002
Aaron and I got up early to troll for trout. Back and forth, back and forth. Not one single bite in about 4 miles of trolling. Makes me want to have happy hour at 8:00 in the morning. As we were trolling by the campsite just east of us, which was unoccupied, I had to go. So I thought I would check out the campsite. As we neared shore, I saw something black in the water. I reached in and picked it up, here was a nylon pouch with a mini mag light and a Victorinox SwissTool in it. The light still worked and there wasn't any rust on the tool so it couldn't have been there long. Someone lost an expensive piece of equipment. I will take good care of it. We got back to camp around 9:00am. Hailee was still alseep so Aaron decided he was going back to bed. The air was calm and the clear blue sky was letting the sun shine to its fullest. I sat on the rock ledge and cleaned my new found treasure and enjoyed the sunshine. The rocks had a nice curve to them that made reclining very comfortable. My turn to name a campsite. SWEET ROCK BLUFF. When the kids finally got up we had pancakes and bacon for breakfast. Today, weather wise, was the best of the whole trip. 75 degrees, no wind and not a cloud in the sky. We just lazed and enjoyed the day. I did something I never do at home. I took a nap. Later that afternoon we canoed over to Kek Lake. Tried our luck at fishing there and again no luck. On the way back to the campsite I finally caught a lake trout. For supper we had angel hair pasta with sundried tomatoes, garlic, chives, mushrooms and parmesan cheese, with a side of lake trout. Life doesn't get any better than this. The stars were brilliantly bright at 1:30 am.
DAY 6
6-09-2002
Up, packed and on the water at 8:00am. Or goal today is the south arm of Knife Lake, which is familiar terrority for Aaron and I. A cloudy, dreary day. By the time we canoed to the east end of Kekekabic rain was falling. The portages thru the Kekekabice ponds are short and basically just a nuisance. The rain is more of a heavy sprinkle and now the portages are slippery. I wanted to go over and see Ogishkemunc Lake, but I can tell the kids are starting to wear down. Hailee is staring to whine a little and Aaron has a pain in his right kidney So we skipped Ogishkemunc and I mentally put it on a list of lakes to see on our next trip. Crossed Eddy Lake and into Knife. The waterfalls between Eddy and Knife are beautiful. Took pictures and moved on, going west up Knife. Just east of the Bonnie Lake portage is a little island campsite. On my past 2 trips to BWCA, we camped on this island. And since I knew the fishing spots in this area, we decided to spend 2 nights on what we are now calling MEMORY ISLAND. By the time we got there, we were wet and cold. Paddling into the wind we also were getting tired. We again set up the tent and rainfly all the while battling mosquitoes and ticks. We changed into dry clothes and crawled into our sleeping bags to get warm and take a nap. On this island I see the biggest change yet due to the blowdown. All of the big trees are down and all the smaller ones are snapped off at around 15 feet. Never again will we camp at this site. It actually was the worst campsite we had the whole trip. At bedtime, I had some beef jerky stuck in my teeth, so I brushed and flossed. While flossing, I pulled a good sized filling out of a tooth. Great, now I have a big hole in my mouth. I sanitized it with tequila, then went into the tent to join the rummy game.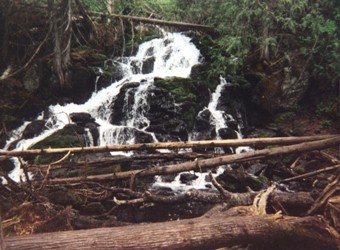 DAY 7
6-10-2002
We awoke this morning to the sound of a woodpecker enjoying his breakfast. He darts from tree to tree just having a smorgasbord on all the bugs in the dead trees around us. There is also a small frog living in the latrine. Poor creature. The day looks like rain but we lucked out again as it kept missing us. We canoed to where there is a cross over to the north arm. In the past I have caught many pike and bass in this area. As soon as we crossed over, Aaron had a pike. I tried a floating rapala and as soon as it hit the water it was gone. The bass were on their beds. We spent the next few hours pulling in smallies with almost every cast. Hailee caught what was to be the biggest fish of the whole trip, a 25″ or so pike. She is in heaven now. We kept 4 bass for supper and dined on bass fillets and garlic mashed potatoes. After we retired to the tent for the night we decided to harass the mosquitoes. We would put our fingers up next to the screen and just tease the little bastards. Oh life is good. No rummy tonight. The bass wore us out.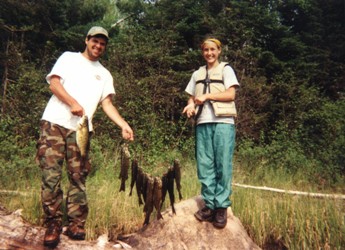 DAY 8
6-11-2002
Big, big thunderstorm last night. We awoke to very loud thunder, bright lightning and heavy wind. Only problem was, there wasn't much rain to help ease the dry conditions. Our tow out is from the Indian portage on Birch Lake. We decided to camp on Birch for the last night so we wouldn't have to hurry along for the 11:00am pick up. On the way out of Knife we decided to again go fish for smallies, which were still biting great. We stopped on Isles of Pines and paid respects to Dorothy. There were low clouds and mist following us the entire day. There also were a lot of people camping on Birch, but we found a site about a 1/2 mile from the pick up point. Had a hard time finding a level spot for the tent. And by this time everything was wet and the kids were cold, tired and hungry. I think they are getting delirious as they started singing Christmas songs. After some hot soup and happy hour every ones spirits brightened. There was a big fat mouse exploring our gear and a rabbit hopped past our tent. Hailee keeps making fun of me. The grouse having been drumming the whole trip and Aaron and Hailee can hear them easily. I can't hear them at all. Those old mind blowing speakers from my teenage days have ruined my hearing. Named this campsite TILL NEXT TIME PENINSULA. We are spending our last night in the Northwoods of MN. Playing rummy, talking and just having a great time together. There is such a big difference by having your family on a trip like this instead friends. I know we have formed fond memories that will last a lifetime.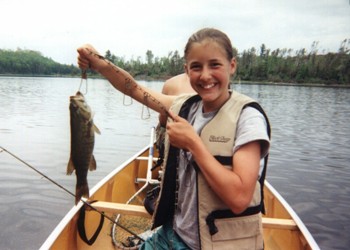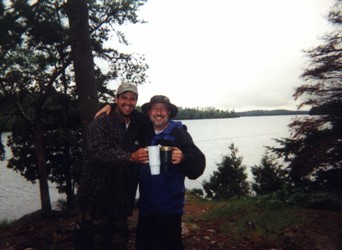 DAY 9
6-12-2002
Woke to another dreary, misty morning. Got packed and to the pick up point an hour early. The tow operator was in the area and was there in 15 minutes. Hailee saw another moose on the tow down Moose Lake. Loaded the truck, said our good byes and headed to Ely for pizza at Pizza Hut. After shopping for a new ball cap, because I left mine on the portage between Ahmakose and Wisini Lakes (I think), we hit the road. Drove as far as Edgerton WI. and got a nice room at the Comfort Inn. Hailee came out after using the bathroom and proudly exclaimed "It's so nice to use the bathroom without swatting mosquitoes. After hot showers, Burger King and cold beer for me, we veggied on TV until sleep over took us. The next day found us at home with our 2002 BWCA trip now just a memory.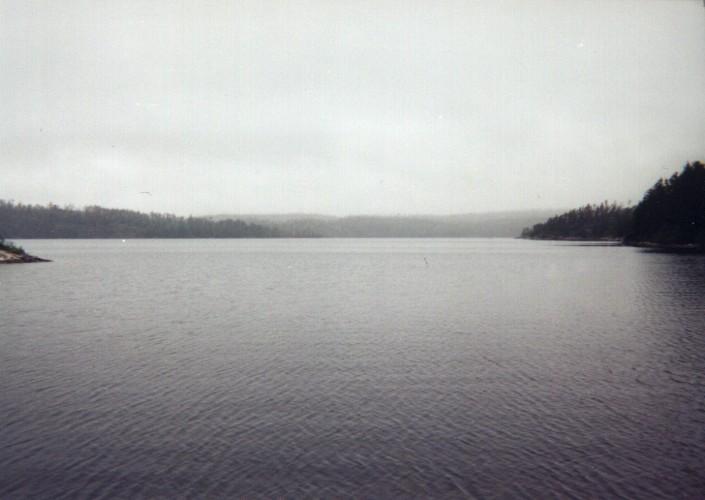 In conclusion:
A fine trip. Aaron is a great bow paddler and has no desire to paddle stern. Hailee was a real champ considering she has only went canoe camping for 2 nighters until this trip. Next trip I will take more fuel for the stove, as we finished with less then a 1/2 tank in the stove and 2 empty fuel bottles. One item I learned from the canoe list group that I tried and loved was baby wipes with alcohol for cleaning hands. We took way too many extra AA batteries, steel leaders and food. Parmesan cheese is great to add to everything and doesn't weigh much. More butter next time, we ran out. I'm also going to up grade my old coleman 502 stove to a higher btu dual fuel stove.