2016 BWCA Canoe Trip Winners Share Their Story
Paddler Joe Dornan thought he was just going to a canoe auction to purchase a new canoe at the spring Outdoor Adventure Expo, but he came away with so much more!
Last April, Joe and his friend Rob Murray visited the semi-annual Outdoor Adventure Expo located at Midwest Mountaineering in Minneapolis Minnesota, which boasts over 50 exhibitors, many with a great emphasis on canoe and wilderness travel. They were simply there to buy a canoe at the popular auction–where people buy and sell small water craft, from beautifully restored cedar stripped canoes to the latest model of solo canoes and many more.
Joe and Rob came away with an Old Town Discovery 174, which they later renamed [and labeled] the "Dirty Old Town", in reference to a song by The Pogues, a song played at many of their gatherings, and would have significant meaning for future paddling!  After they had finalized the paperwork of their new purchase, they walked around and happened to come across the Canoeing.com booth.
Each year Canoeing.com holds a drawing for a fully outfitted canoe trip–this year provided by Bearskin Wilderness Outfitters— into the Boundary Waters Canoe Area Wilderness (BWCAW). Joe happened to fill out a slip after he purchased his new Old Town and continued on to the next booth. Later that summer, we called Joe to let him know that he had won!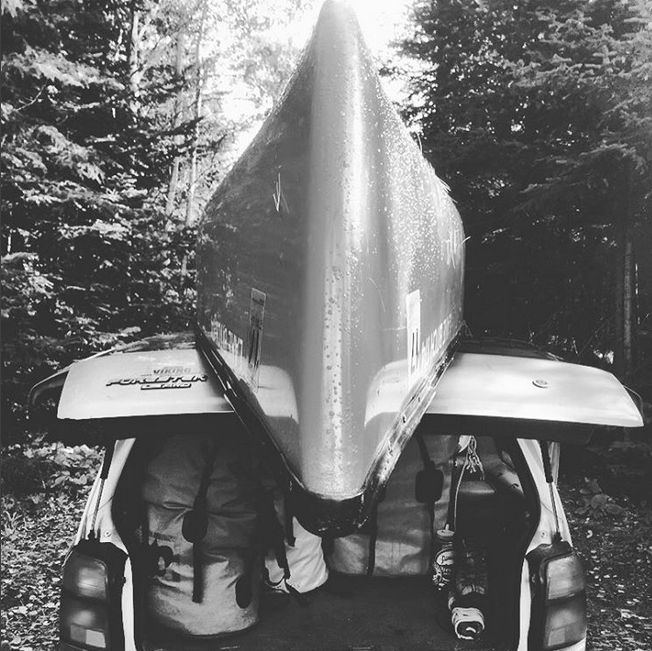 Though the trip was for two, Joe and his other friend Ryan added two friends, Rob and Niki, who also happened to sign up for the same contest at the Outdoor Adventure Expo. To prepare for his first trip into the wilderness, Joe relied heavily on Rob, a Boundary Waters veteran, for ideas since Rob was the only one of them that had been to the BWCA before. In fact, Rob had just finished a separate trip into the Boundary Waters.
As the four of them pored over the details, Joe's only request was to go to an area that would have some decent fishing. With that as their aim, Quinn from Bearskin Wilderness Outfitters recommended Entry Point 47, Lizz/Swamp–which starts the trip on beautiful Poplar Lake off the Gunflint Trail. The rest of the details they decided would be left up to Quinn and the gang at Bearskin Lodge whose advice for the group would later prove to be invaluable.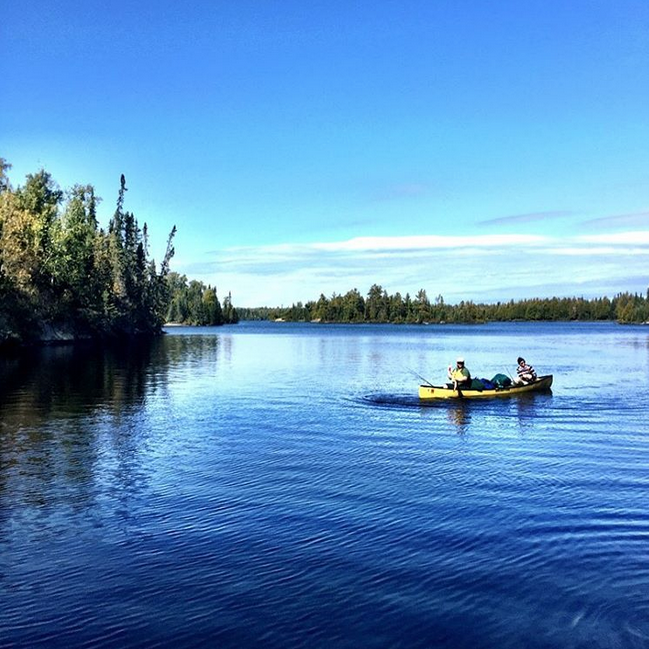 At last their weekend for the trip arrived, so the night before their trip was set to begin they set off for Grand Marais, Minnesota, and the start of the Gunflint trail. They arrived late to Bearskin Lodge, but were greeted with outstanding hospitality by Quinn and the gang who went out of their way to accommodate Joe and his friends.  After spending the night in one of Bearskin's very nice cabins, and with portage packs now fully loaded with food and gear, and a canoe overhead, they were off!
The four had an absolutely wonderful time on Poplar, Lizz and Caribou lakes, and in Joe's words, "We were extremely well fed. Meals ranged from steak and potatoes one night, to vegetarian meals on other nights to accommodate some of our group members."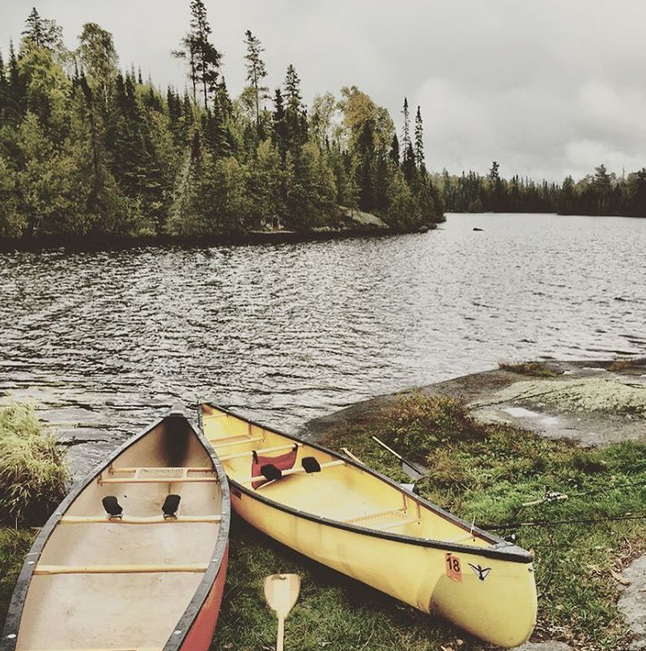 Despite fishing being their top priority, they weren't able to go out and fish as much as they would have liked since the weather was miserable. They did happen to come across some bones belonging to a moose on an island, and an otter playing nearby. The group focused on friendship, exploring their campsite and embraced these new experiences as a whole.
Although the weather was not in their favor for much of the trip, including battling the wind and getting drenched in pouring rain on their return, they had an outstanding time, and honestly didn't let the elements get them down.
Joe has plans to return to the Boundary Waters, and if you're looking for an eastern Boundary Waters trip, check out Bearskin Wilderness Outfitters.
All Photos courtesy Niki Rhodes
---
by Lindsey Altermatt